TEAM CYCLING WATER BOTTLE TACX SHIVA 750cc/25oz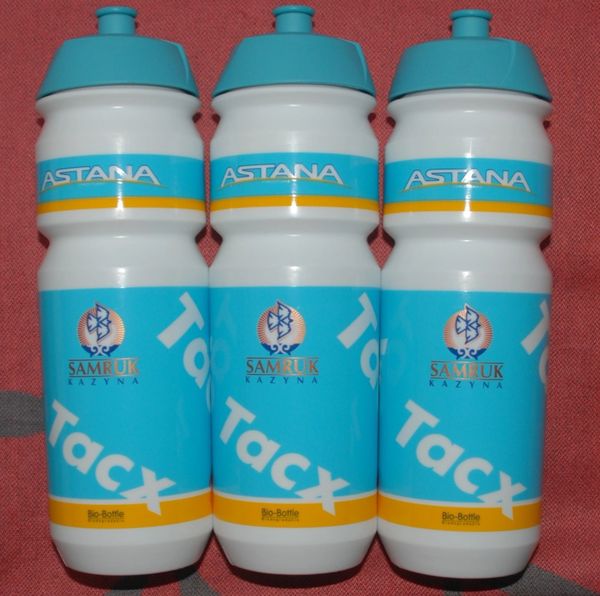 TEAM CYCLING WATER BOTTLE TACX SHIVA 750cc/25oz
TEAM CYCLING WATER BOTTLE - SHIVA by TACX 750cc/25oz NEW !!
THE BOTTLE OF THE PROS !! SAME BOTTLE USED BY THE PRO CYCLING TEAMS !!
Please note that the photo shows 3 bottles so you can see the print in "the round" when you purchase 1 you get 1 etc..

The Tacx Shiva bottles are used this season by international top riders such as Mark Cavendish, Tony Martin, Thomas Voeckler, Alberto Contador, Vincenzo Nibali, Bauke Mollema and Jurgen Van den Broeck. The Tacx Shiva cycling bottle is a sturdy water bottle with a lockable screw-on cap. Made of biodegradable plastic, so much better for the environment.
The Shiva is a sturdy water bottle with a powerful design. The screw-on cap features a lockable spout; the striking triangular form of the cap guarantees a secure grip. The bottle is easy to fill and clean. The special nature-friendly Bio-Bottle version is used for the Tacx cycling bottles. Biodegradable plastics are a modern necessity now that our environment is under growing pressure. Tacx has taken up the challenge to develop a biologically degradable, nature-friendly water bottle. The Bio-Bottle has the same characteristics as the other Tacx bottles, but it distinguishes itself due to the plastic of the bottle being biodegradable. Adding a small amount of the Bio-batch material alters the molecular structure, which makes the material decompose into Biogas and Biomass. These nourish the soil and are entirely absorbed by nature. The production of these bottles all takes place at the TACX factory in Wassenaar, Netherlands.